Swatchly - Product Variation Swatches For WooCommerce
Swatchly is the ultimate WooCommerce product variation swatches plugin for dynamic product variation swatches. With Swatchly, customers can easily select colors, sizes, and more, resulting in an engaging shopping experience and increased conversion rates.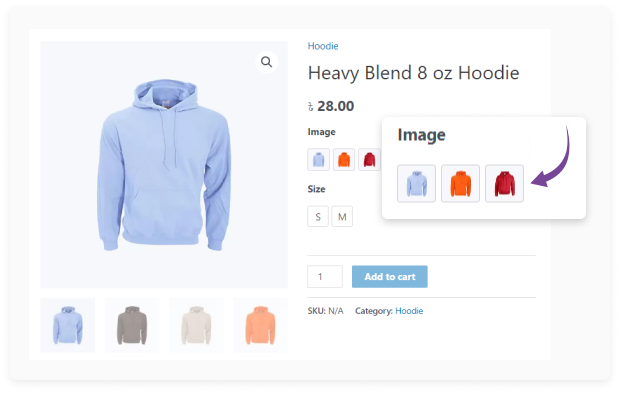 Image Variation Swatch is a dynamic feature that elevates product presentation, allowing you to showcase images for each variation. It offers a visually engaging shopping experience, surpassing traditional color swatches and enhancing conversion rates.
Color Variation Swatch is a versatile feature that elevates product aesthetics by displaying color options as swatches. It enhances the user experience, simplifies product selection, and adds a vibrant dimension to your online store, making it easy for customers to find and choose their preferred product colors.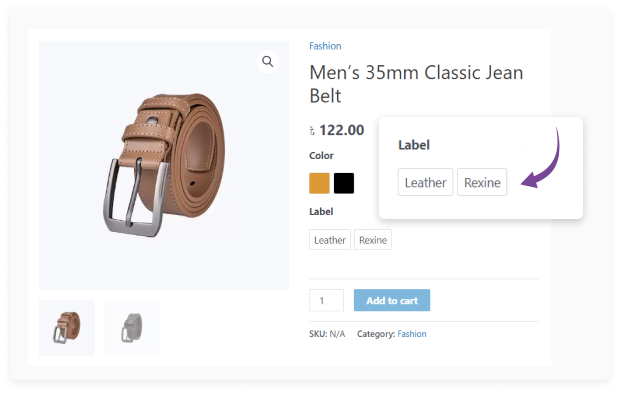 Label Variation Swatch is a user-friendly way to showcase product variations. It replaces text attributes with clear labels, simplifying the selection process. This swatch type streamlines the shopping experience, providing a convenient and organized way for customers to make informed choices based on product features.
Tooltip Variation Swatches
Tooltip Variation Swatch adds informative tooltips to product variations, enhancing the shopping experience. When customers hover over swatches, tooltips provide detailed information about each option. This feature empowers shoppers with in-depth knowledge, aiding them in making informed and confident decisions.
The Attribute Shape Style offers three distinct swatch shapes: Squared, Rounded, and Circle. These versatile styles allow you to customize the appearance of your swatches to match your brand's aesthetic and create an engaging shopping experience for customers. Choose the style that best complements your product presentation.
Attribute Behavior (Cross Sign/Blur/Hide)
Attribute Behavior provides three distinct options to control the appearance and interaction of product attributes: Cross Sign, Blur, and Hide. Choose Cross Sign to visually mark disabled options, Blur to subtly indicate unavailable choices, or Hide to entirely conceal inactive attributes, tailoring the user experience and simplifying selection processes.
Swatches for Product Catalog
Swatches for Product Catalog enhance your online store's visual appeal and user experience. These interactive swatches provide a dynamic way for customers to explore product variations, making it easier to navigate your catalog and choose the perfect options, whether it's colors, styles, or other attributes.
Unique & Extraordinary Features
Swatchly offers a range of powerful features to enhance your Woocommerce variation swatches. Enable/disable swatches, control swatch positions, and utilize custom hooks. Customize add to cart text, show/hide forward button and popup notice.
Variation Swatches With Quick View
Set More Link to Variation Swatches
Variations for Individual Product
Replace Dropdowns with Button Swatch
Add Swatch in Product/Archive Page
Dual Color Variation Swatches
Image/Text Tooltip
Different Swatch Types
Hide out of stock Products
Video Tutorial and Documentation
Learn how to use Swatchly with our extensive video tutorials and documentation. Our step-by-step video guides walk you through setup and customization, while detailed documentation provides in-depth instructions and troubleshooting tips.
Give Plugin Swatchly a try!
Streamline Your Plugin Usage and Enhance User Experience with Swatchly.
Essential Features to Get Started
Find the Right Pricing Plans
Get a 40% discount, Hurry-Up Limited Offer.  
Frequently Asked Question (FAQ)